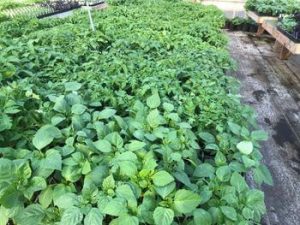 Welcome to the Country Greenhouse located in Buhl, Idaho.
Our Location
4033 N 1400 E Castleford Rd.
Buhl, ID 83316
Phone
(208) 543-6166
Email
info@cgreenhouse.com
Hours
Mo-Fri 9:00am – 6:00pm
Sat 9:00am – 5:00pm
Welcome to the Country Greenhouse! We are a family run Greenhouse. We purchased an established business 11 years ago. Not only do we strive to have the best in plants but we give you quality plants at a fair price! 
We take great care in starting as much as possible all of the plants that we sell our customers.  Perennials, bedding plants, vegetables, hanging baskets, shrubs, roses and mums are all sold here on site for a fair price!  If you need custom planters we would love to do that for you! 
We are also happy to announce that a few years ago we added lawn care to our business. Your lawn and garden has no reason not to look its best with the care of  the Country Greenhouse's  lawn care crew! 
If you have any questions about what grows best in certain areas or what would compliment your yard we would be more than happy to offer advice and answer questions! Come visit us today! 
Hanging Baskets
For beautiful hanging baskets, visit Country Greenhouse today! We are known for beautiful hanging baskets that are full. Comes in both 12" and 16" sizes.
Vegetables
Stop going to the grocery store for your vegetables and start growing your own! We are happy to offer you different types of vegetables that will overflow from your garden to your table!
Planters
We have many different varieties of planters for you to pick from! From small to big and to many different colors this is just what you need to add color to your house!
Lawn Care
Call us today if you need someone to maintain your lawn and yard! Our lawn care crew is reliable and takes pride in a job well done. Our customer's satisfaction is our first concern!
From Our Greenhouse To Your Home